In the middle of heated debates on Government decisions amid a pandemic is not where we want to be, but here we are.
Social media use is in its all-time high, with most of the Filipino citizens still on home quarantine despite the GCQ transition.
And naturally, social media feeds get flooded easily with "humble opinions," especially on recent news claiming that "the President only needs to sign the Terror Bill for it to become law."
Of course, people who have read it will say it's poorly written. Of course, most people have not read it and, therefore, don't know anything about it.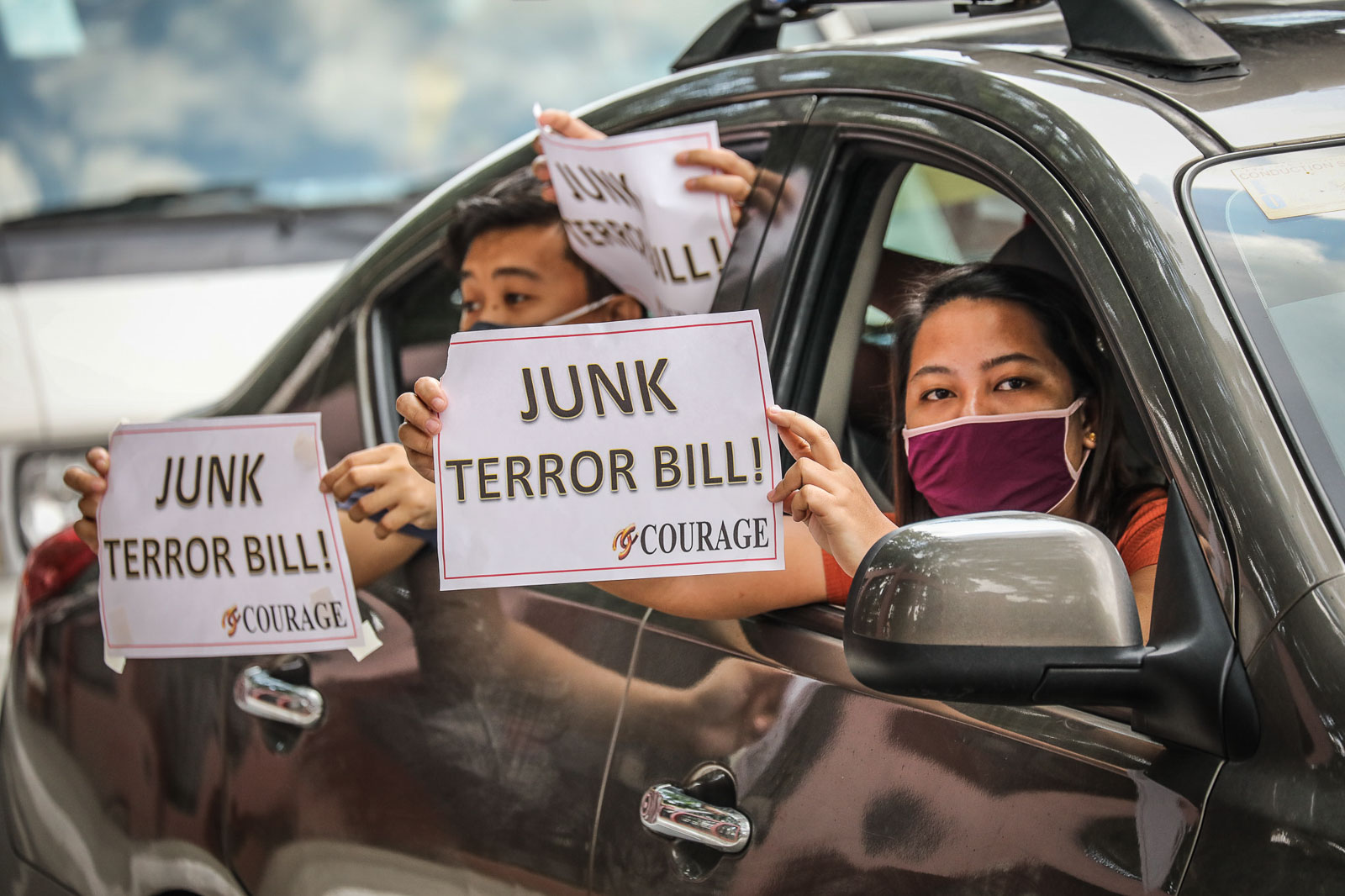 We understand that we need to make our voice heard. Someone needs to speak up and fight for our rights as a nation.
However, signing off every post with "DDS KA PA RIN?" and its demeaning versions is, in fact, counterproductive and bluntly put, irritating no matter how right we are. It doesn't help us get our valid points across.
I am not in Government, nor am I a lawyer. But I did study Communications.
From what I learned (please correct me when wrong, but I hope you won't condemn me), we communicate for a goal. We write with intent.
And here I am asking what goal do we get when degrading/belittling our friends (take note our readers are our network of friends and their friends) when we say "OPOSISYON KA?" "NEUTRAL KA?" "UNFRIEND ME NOW" or in influencer terms "UNFOLLOW ME."
What do we gain? What is our objective? Do we hope that these people will look down on themselves and realize, "How stupid have I been for being a supporter of the government." I guarantee 100% you don't get to change their minds. If anything, most of them will even cling harder to their beliefs.
(… a harsh word stirs up anger. Prov 15:1)
We all get it. We are tired of the hullabaloos of the Government. They have been corrupting our funds and misleading us for years. The Philippines has remained poor, especially on opinion-generation, because a lot of the poor don't get a proper education. Maraming issues. (Sobrang dami.)
But isn't our goal supposed to be pro-Pinoys? Pro-relationships? Pro-friends? Pro-Philippines? (the context is different from the kama-"kamaganak sa gobyerno.")
That's why we are fighting to voice our opinions because we want to help fellow poor Pinoys, do we not? If so, why condemn friends who clearly are in the wrong mindset in the present?
We can be proactive and reactive without being destructive. Years ago, during the presidential elections of 2016, I voted for Miriam. But the election was clearly a toss between Duterte and Roxas. At first, I wanted to be strategic and vote for Mar instead. But because *I changed my mind* a few days before, I opted for Madam.
I didn't agree with Duterte's kill platform, and I made sure my opinion on this was heard even at the height of his drug war where innocent civilians are killed daily. I felt smart. I felt empathetic. I thought I am promoting the rights of the Filipinos during those days.
However, as things progressed (read: as I grew older haha) I realized social media should be off-limits to toxic levels of public opinions, especially when it came to destroying friendships.
I never criticized my DDS friends then, but I do remember that I had a slightly different opinion with my husband back then.
But a political disagreement shouldn't be a cause for broken relationships, right? (Unless I don't value relationships at all.) So we adapted the mindset "better to be kind than to be right," instead. Because in reality, circumstances change, and people's opinions change through the seasons as well. We can always correct them with love, not through demeaning words.
What we wrote on our Twitter accounts in the past may no longer be the truth today. Who we were on our highschool yearbooks may not be who we are anymore, today. People grow. We learn.
And imagine being condemned for an opinion we had in the past. (Unless again of course, if we didn't learn and still make the same mistake today, but even so, it's no excuse to kill off people we don't agree with.)
So how do we approach friends who don't think like we do today?
Again, speak the truth and educate IN LOVE = Gently, humbly, with no anger or condemnation. In the event that no agreement is met, always think of others before yourself.
Post your causes, drop the destructive clauses.
ENCOURAGED:
"Junk terror bill! Our president needs to prioritize the safety of more Filipinos!"
"Junk terror bill. It's not the time!"
"NO TO ABS CBN Shutdown. The president cannot curb free speech!"
"Black lives matter!! We are all humans!"
AVOID:
"I AM AGAINST THE TERROR BILL! (Legit cause) Yung mga pro-duterte kong friends masaya kayo sa nangyayari?!(destructive clause)"
"NASAAN ANG PERA NG BAYAN!! (Legit cause) Di ko alam sa mga bobong dilawan. Hindi pa namumulat sa katotohanan. (destructive clause) "
"No to ABS CBN shutdown! (Legit cause). Wala kayong pinagaralan kung natutuwa kayo! Sabagay hindi niyo sila naiintindihan kasi mayaman kayo! (destructive clause)"
Other destructive opinions:
"Puro kayo Netflix! Wala kayong pakialam sa bayan!"
"Puro kayo tiktok bakit hindi kayo tumulong??"
These are dangerous accusations because it cancels the fact that some people cope with the pandemic differently. Some people help offline. 🙂
Do you see the difference?
Even when engaging with healthy online discussions with people, always choose the gentler words. And if still in disagreement, maybe end it with "Ok, praying we see the truth in all these eventually."
Friends, what is our goal? Is it to improve the government/the country/the world? Or to instigate hate?
---
Sharing here an article I saw from FORBES. com about how to state an opinion without being opinionated.
It's more for leadership, but we could learn a thing or two for our online behaviors. 🙂
1. Ground your thoughts in facts.
2. Use concrete words.
3. Speak firmly, not necessarily loudly.
4. Ask questions, and listen to others.
5. Look at the person.
6. Don't be a contrarian for the sake of being a contrarian.
7. Speak first and last.
Let's practice holding our own tongues and fighting fairly. Just my humble opinion.
Love, Jazz.